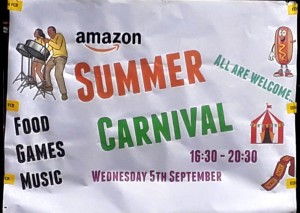 Hog Roast Luton is experienced in providing corporate catering for many businesses, both large and small, and recently we catered for a giant – Amazon! For their summer carnival (well, it is technically still the summer season in the UK), we were asked to provide some delicious food for 350 people at Amazon Logistics, which is located on Boscombe Rd in Dunstable.
At Hog Roast Luton, we have all kinds of options, and not just hog roasts, though on this day we would be preparing, cooking and serving just that, as well as a veggie alternative. For most of the guests, we would be catering with our Menu 1 of a centrepiece hog roast made into pigs in buns, as well as grilling veggie skewers for vegetarians. The skewers feature chunky pieces of halloumi and vegetables such as mushrooms, courgette, tomatoes, peppers, and red onion, and can be made vegan if needed, by omitting the cheese. When it comes to the pigs in buns themselves, we make those by lovingly preparing the meat and then slow-roasting the pig for hours upon hours, letting it rest a little and then carving away to reveal plenty of salty crackling and pieces of tender, juicy meat. We fill trays with both, then add to fresh bread rolls and wraps, top with our own homemade sage and onion stuffing and apple sauce and then guests can add their choice of condiments. They are hugely popular, and would prove to be on this day too…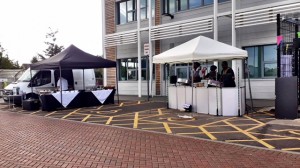 On the day of the Amazon party, our Hog Roast Luton team arrived several hours before the serving start time of 4.30pm, and started by setting up our equipment, including our gazebo and serving tables. Before long, we got on with prepping the meat, by scoring it and adding water and salt all over, and then the hog roast machine temperature was set to low and the meat started to slowly cook while we watched over it. Later, we grilled the skewers, and prepared the sauces and bread rolls, ready for service.
Between 4.30pm and 8pm, we served and satisfied never-ending queues of hungry people, while being entertained by the amazing steel band situated close to our stall, and the guests all had a ball with the fun and games provided by Amazon.