In this day and age you can host a party in whatever way takes your fancy. You can theme it from something simple to elaborate. We recently did a Halloween party with guests in fancy dress, the house decorated throughout as a haunted house, with scary actors, coffins full of sweets, and a cocktail bar with ghoulish potions, very elaborate fireworks. All this for 50 VIP guests. All great fun. Oh yes and we did the pig roast!!
Private parties range from weddings, birthday parties to just an excuse for a get together. We find that the most common request is that the occasion is kept informal so that guests can come as they please to eat from the hog roast. The beauty of the hog roast is that guests are fascinated by the cooking, they are attracted by the aromas and finally enticed by the mouth watering spectacle as it is carved and served. It all enables guests to dance, mingle, and enjoy the party with a less formal feel.
There are many parties where a more extensive menu is required. We can provide a wide selection of deliciously fresh salads, or indeed fresh vegetables with a choice or two of potatoes. If starters or desserts are required then we have a fine selection, and these can be tailor made to suit tastes. We have years of experience and are more than happy to work with ideas and elaborate themes. It really does depend on your budget and style.
We have done hog roasts for all sizes of parties. We are often asked if we can cater for a particular number of guests. The smallest private party this year was 13 guests and the largest was over 800. All involve the same amount of preparation and cooking. There are just different logistics.
Perhaps the most popular party size is from 50 to 100, which I guess makes it our bread and butter. At every party there is always plenty to go round and we will always leave what is left if so requested.
Perhaps one of the most memorable parties was when Tom Jones and Pink Floyd were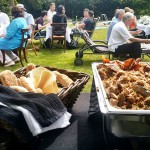 performing. What a wonderful way to work with live music like that in the background. Well it was bit louder than in the background! Some of the top magazines would have loved to have been there. The guest list was impressive.
Where to in 2017 and beyond? Well we can never really tell, but if the past is anything to go by it sure going to be fun.