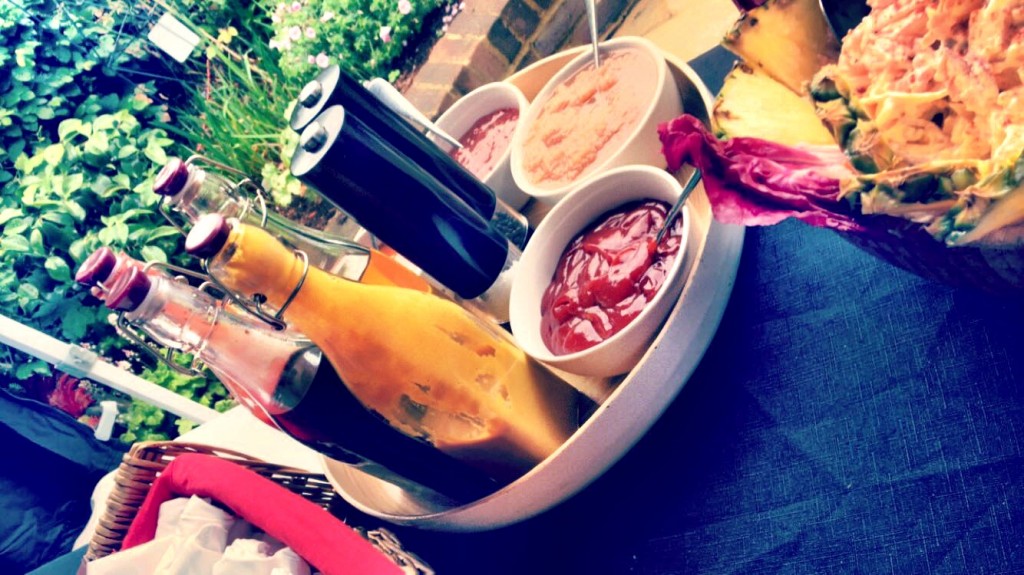 Here at Spitting Pig we know that one of the most important days of your life is your wedding day. People spend months, if not years planning their big day to make it perfect. From arranging the flowers to the guest list, organising a venue to choosing the dress, we know how stressful the whole process can be. This is where we come in. We can provide fitting catering for your big day. By choosing us to do the catering for your wedding you have one less thing to worry about. We provide you with excellent food and service unlike any other caterer in the county. The food at a wedding is one of the most important parts of the day. Everyone looks forward to seeing what's on the menu and there are no bigger critiques of the food than your guests. We think the food and service should be as special as the day itself. By choosing Spitting Pig we provide a delicious hog roast served just the way you like. We have a great selection of wedding menus to choose from leaving you spoilt for choice. Option one is the most simple menu ranging all the way up to option six which is our top of the range and most spectacular menu. The choice is yours and one thing that is guaranteed is no matter what option you pick the quality of the food will always be of the highest standard.
Why Should You Choose Us?
Bringing first class Abingdon hog roast catering to Weddings, Birthdays, Christenings and Corporate events is what we are so passionate about here at Spitting Pig Buckinghamshire. There is nothing more satisfying than watching people enjoy our food just as much as we enjoy cooking it. Our meat is what we take pride in which we serve with our soft floured bread rolls, home made stuffing and a selection of sauces. Each month in the Witney area a farmers market is held, here you can find farmers looking for top quality pigs, cows and lambs to breed to give people outstanding meat. We make sure we purchase all our meat locally, that way we know it is the highest standard possible.
So not only is your meat free range it is fresh and top quality to give that succulent taste and texture that is sure to impress all of your guests at your event. Hosting a Witney hog roast event can be difficult when rushing around catering it yourself especially with things like birthday parties and family get-togethers when all you want do is have a good chat and mingle in with the crowd and the cold finger buffet is not as popular as it used to be, so why not sit back and relax? whilst our fully qualified chef prepares your chosen meat and cooks it for you and all your guests to see. The hog roasting away in its own juices to a golden brown colour just makes your stomach hungry at the thought! so imagine how your guests will feel once they get a smell of the succulent meat cooking. A hot Abingdon hog roast buffet is a great winter warmer or summer snack because it is full of incredible flavour and a great piece to have to give your guests something to talk about.
Only The Best Standards At Spitting Pig Buckinghamshire
It's precisely because of our exuberance for hog roasting that we set about putting into motion our own production line, a production line that creates Buckinghamshire most arresting hog roast machine specimens. We wouldn't be able to make a splash as big as we do, at all events, if it wasn't for the fact we make our own tremendous machines. Making our own hog roast Pwllheli and spit roast machines is so important because without them we simply wouldn't be able to cater so many various menus and dishes for the spectacularly good prices that we do. Specially constructed, purpose-built hog roast and spit roast machines mean that we fry, steam, boil and grill our fresh organic produce while simultaneously making the spit roast. Rather than having to bring loads of equipment and a whole portable kitchen we can do most of what we do with a single hog roast or spit roast machine. It's incredible what we can do, people are often shocked by the food on our menus because they just aren't used to hog roast specialists having the knowledge and equipment to effortlessly construct event favourite foods.