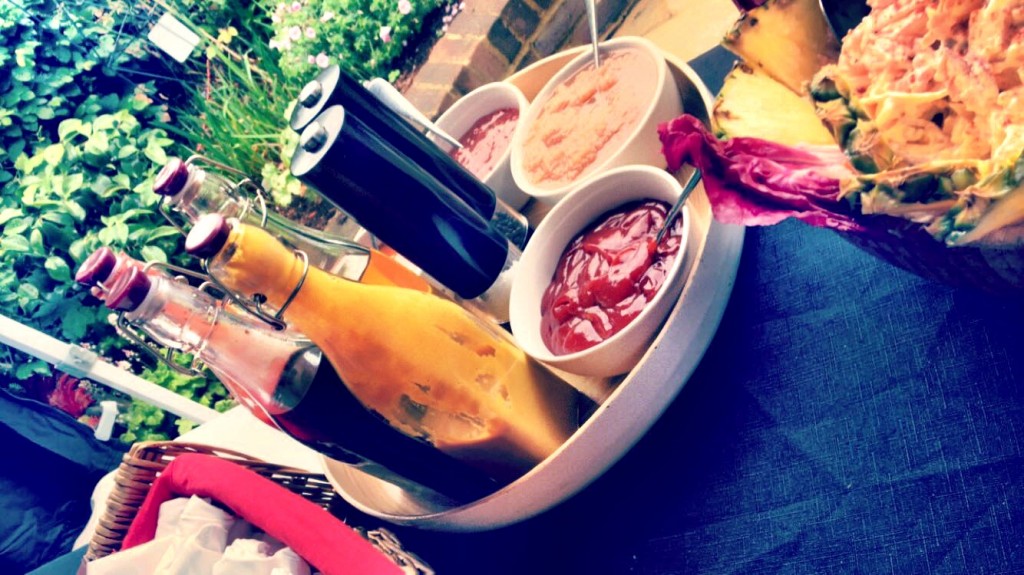 Here at Spitting Pig we know that one of the most important days of your life is your wedding day. People spend months, if not years planning their big day to make it perfect. From arranging the flowers to the guest list, organising a venue to choosing the dress, we know how stressful the whole process can be. This is where we come in. We can provide fitting catering for your big day. By choosing us to do the catering for your wedding you have one less thing to worry about. We provide you with excellent food and service unlike any other caterer in the county. The food at a wedding is one of the most important parts of the day. Everyone looks forward to seeing what's on the menu and there are no bigger critiques of the food than your guests. We think the food and service should be as special as the day itself. By choosing Spitting Pig we provide a delicious hog roast served just the way you like. We have a great selection of wedding menus to choose from leaving you spoilt for choice. Option one is the most simple menu ranging all the way up to option six which is our top of the range and most spectacular menu. The choice is yours and one thing that is guaranteed is no matter what option you pick the quality of the food will always be of the highest standard.
Why Should You Choose Us?
Bringing first class Abingdon hog roast catering to Weddings, Birthdays, Christenings and Corporate events is what we are so passionate about here at Spitting Pig Buckinghamshire. There is nothing more satisfying than watching people enjoy our food just as much as we enjoy cooking it. Our meat is what we take pride in which we serve with our soft floured bread rolls, home made stuffing and a selection of sauces. Each month in the Witney area a farmers market is held, here you can find farmers looking for top quality pigs, cows and lambs to breed to give people outstanding meat. We make sure we purchase all our meat locally, that way we know it is the highest standard possible.
So not only is your meat free range it is fresh and top quality to give that succulent taste and texture that is sure to impress all of your guests at your event. Hosting a Witney hog roast event can be difficult when rushing around catering it yourself especially with things like birthday parties and family get-togethers when all you want do is have a good chat and mingle in with the crowd and the cold finger buffet is not as popular as it used to be, so why not sit back and relax? whilst our fully qualified chef prepares your chosen meat and cooks it for you and all your guests to see. The hog roasting away in its own juices to a golden brown colour just makes your stomach hungry at the thought! so imagine how your guests will feel once they get a smell of the succulent meat cooking. A hot Abingdon hog roast buffet is a great winter warmer or summer snack because it is full of incredible flavour and a great piece to have to give your guests something to talk about.
Only The Best Standards At Spitting Pig Buckinghamshire
It's precisely because of our exuberance for hog roasting that we set about putting into motion our own production line, a production line that creates Buckinghamshire most arresting hog roast machine specimens. We wouldn't be able to make a splash as big as we do, at all events, if it wasn't for the fact we make our own tremendous machines. Making our own hog roast Pwllheli and spit roast machines is so important because without them we simply wouldn't be able to cater so many various menus and dishes for the spectacularly good prices that we do. Specially constructed, purpose-built hog roast and spit roast machines mean that we fry, steam, boil and grill our fresh organic produce while simultaneously making the spit roast. Rather than having to bring loads of equipment and a whole portable kitchen we can do most of what we do with a single hog roast or spit roast machine. It's incredible what we can do, people are often shocked by the food on our menus because they just aren't used to hog roast specialists having the knowledge and equipment to effortlessly construct event favourite foods.
[peekaboo]
[peekaboo_content]
Event specific menus are one of the great things about Spitting Pig Buckinghamshire. Event specific menus are menus that we've created for each different type of events, at the moment we have menu sections for a wedding event, corporate event or a party event. It's that much easier with our menu categories to find a menu that you want. Finding a hog roast Caernarfon menu you like and booking it can be a real hassle when doing so with other caterers, but not with us.
We get our pigs, like our chicken, beef and lamb, from farms in Buckinghamshire. The produce that we buy doesn't just come from any farm either; it's from salt of the Earth independent Welsh farmers who practice free range organic farming. The benefit of free range organic farming is that it's ethical and planet-friendly, and it also is really good for the taste of the food. The ingredients are given the time and natural environment to develop as best as possible and that transitions right onto your plate with even more delicious tastes and textures with a hog roast in Dolgellau.
A Professional Service From Start To Finish
The town Abingdon is a town full of culture and folklore which is why we love catering in this area so much, they have a very old yet still active Morris dancing tradition that takes place yearly. The town comes together to watch the Mayor and the dancers take part in a parade through the town, we always cook up some fantastic treats for this event as the council are always wanting to go all out to impress the tourists and what is better to go with a traditional dance than a traditional way of cooking? Abingdon hog roast that is! bringing delicious smells and a fantastic snack to the event is what we enjoy doing every year giving the guests something sensational to tuck in to. Abingdon is a town that is considered a town of leisure, it is one of the few towns in the U.K that have a yearly air display which we are asked to cater for and more than happy to be a part of every May at Dalton Barracks. Hundreds of tourists come from all over the U.K to watch this event, which is why it is such a great pleasure to be a part of this each and every year catering for over 500 hundred people whilst watching some magnificent displays.
We try to make sure that all our meat and other fresh food is locally sourced. Whether you decide to have chicken, pig, beef or lamb we try to get it from the surrounding areas. It is important that we make the most of the county that we live in and the fresher the produce,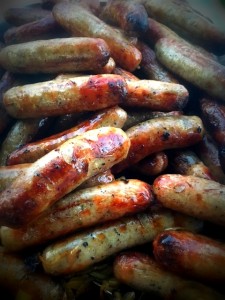 the better the taste. Buckinghamshire prides itself on its top quality local food and we also want to be able to give back to the community too. Every one of our hog roast wedding menus includes a trained hog roast chef, catering assistant and waiters and waitresses. And menus 2,3,4,5 and 6 also include a front of house person. We try to make sure that every aspect of the catering for the day is covered.
We even make sure that all our rubbish is disposed of offsite leaving you with one less thing to worry about. We really have thought of everything. Leaving you able to relax and enjoy your big moment. All our staff are there to make the day easier for you. We don't want you to have to do anything on the day that is why we provide you with staff that are vastly experienced in the catering and are used to working in the industry. As well as providing the delicious food for your wedding another unique selling point of ours is the way we cook our roast. The most traditional and spectacular way to cook the roast is by spit roast. Your choice of meat will slowly cook throughout the entire day ready for the guests to enjoy. The sight and smell of a hog roast slowly spinning and cooking creates a very warm and welcoming feeling and really whets the appetites of all your guests. There is nothing better than the smell of a hog roast slowly cooking on a spit.
The spit roast provides special and unique theatrics unlike any other form of catering in the world. It is a mouth watering and wondering centre piece for your wedding and will get everyone talking. Not only are our hog roasts the tastiest around, they are all the best looking. With days and moments as special as weddings you should let us do all the hard work for you. Spitting Pig understands the stresses of a wedding; that is why we should be your number one choice for catering. Everything that we provide for you on the day is the best. We use state of the art hog roasting machines as well providing friendly and helpful staff who are just as excited about the big day as you. The machines that we use are the best in the business and the ones that we rent out are also of the same standard. But most importantly we provide you and your guests with the best food in, locally sourced and freshly cooked, it doesn't get better than that.
Spitting Pig has been established for nearly twenty years and we are still learning. Every event, party or occasion will demand a different set of skills. There is of course a law of averages that makes our job easier. We pride ourselves on the fact that we comply with all the necessary legislation for food hygiene and that we have done our HACCP. We genuinely want to tick all the boxes so that you can put your mind at rest that we will do the job properly. That then leaves you to worry about all the other important details that make a party go with a swing. We actually manufacture the machines so that ensures that we know what we are talking about and that the hog Roasting machine has evolved and has been improved to do the job efficiently and perfectly. Remember there is a good reason why we are on the first page of Google. We are successful and we work hard on ensuring that our popularity is unsurpassed.
Pig roasts and machine hire
How do we do it?
We start by ensuring that when you book we ask all the vital questions that make our job easier. We will always work with the occasion trying to accommodate any special requests. We will offer suggestions that work within your budget
When the day of the party arrives we turn up on time. We do a quick introduction and survey the party scene with you or the party organiser. Once we have established where we can go , any altered timings and any other important details we set up. All of our hog roasts are cooked from fresh on site, which is what makes the hog Roast the real thing. There are many unscrupulous so called roasters who like to make a quick buck. They turn up with cooked pigs and half cooked pigs, let alone the fact that they do not have refrigeration, insurance of any kind.
At Spitting Pig we comply, so that we are all protected. Once the Hog is roasting we start to prepare any of the other dishes that you may have chosen. We always work from fresh, which always makes sense. Once we have everything under control we help where we can. All of our staff are willing and it fills the time. We find that Hog Roasts suit so many occasions, whether a party for 15 guests or for 2500 guests. The principles are the same , the 'wow factor' is appreciated by all the guests, and for those that are prefer other dishes we usually come prepared, unless told otherwise. Serving and looking after guests which is probably the best bit (of course !!). We get to meet so many interesting people from all over. I have never found it so easy to satisfy the public. They can choose exactly the cut of meat they want and also we will ensure that they are never shy to ask for more. It's all great fun.
Our machines also roast a whole range of meats and can even do 35 chickens at once basted with some wonderful mixes. We can also roast Halal meats with machines that are dedicated for that purpose. We often find that some people want to try pig roasting themselves. This is not a problem, since we can hire for the day, week or month. Some hotels have machine s for the season and then usually buy them at a reduced price. If hiring is an option then we will give you a training session and will always be at the end of a phone if needed for the odd question. We want you to look good so that we look good. Hence why we like to 'partner' you if you need us.
Barbecues
Yes we do Barbecues ! These can be enough to feed an army or just a small occasion that allows you to relax. If our menus need tweeking to suit, just let us know we will be only too glad to come up with ideas. We also do it properly with quality products sourced direct from local suppliers> If it is required we can provide free range products. Once again we can supply a range of canapés, starters and desserts. It is entirely up to you how far we go with the choice of dishes. It might cost more, but we take all the stress away.
Weddings
How we love weddings. It is the most important day for two important people. We treat it that way, ensuring that once you are ready to go ahead we work with you to make the day a success. The corner stone is the Wedding schedule which carries salient catering points. We find that planning is crucial to ensure that all the details are included, and where we feel that we need to discuss that we suggest alternatives. Weddings are always hard work, but that's makes it successful. We like to make sure guests are looked after and that everybody, especially the bride's mother can relax. We see our menus as the starting point for discussion. It gives us the chance to be creative if you wish or go for the tried and tested menus that have made us successful. The choice is always yours. Just give us a call we would be glad to meet up and talk through options.
[/peekaboo_content]