Welcome to Spitting Pig hog roast machine hire Buckinghamshire, leading hog roast machine hire providers. We've been operating in Buckinghamshire since the 80's and over the years we've built up a great deal of experience and expertise when it comes to hog roast catering and hiring out hog roasts. Working with many clients for almost all events imaginable, we're confident in what we offer and know you too will be overwhelmed by what we can offer you. It doesn't matter if you're having a small BBQ or a massive birthday bash, hog roasting goes down a treat at any and all celebrations, parties and functions. Allow us to let you in on a little secret. Common feedback from our clients is regret – Yes, regret. Regret that they put off trying hog roasting for so long! That's the only criticism we've had throughout our many successful and busy years, self-criticism from clients unhappy that they didn't give hog roasting a chance earlier! Hopefully, come the end of reading this text, we'll have swayed you from making the same mistake.
An Easy Catering Alternative
Spit roasting is an affordable and easy way to get the taste buds buzzing, entertain your guests, and make your party one that won't be forgotten any time soon. If you're looking to feed your guests food worthy of a king, without the costs that come with catering, our machine hire service is for you. Witney hog roast hire is easy and we can provide you with 2 different machines, each with different capabilities and purposes. The first machine, our professional hog roast machine, is designed with smaller and more personal parties and celebrations in mind. It cooks less than our other machine and is more affordable, but loses nothing in terms of quality and end result because of it. The hog cooked is still to die for, with moist, tender and flavourful meat and crackling that's nothing short of amazing.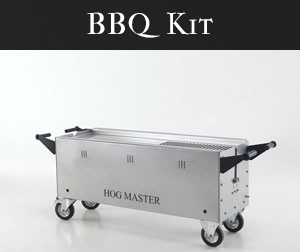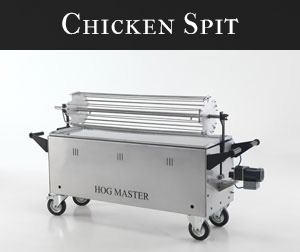 The Titan is the bigger and more capable of our two machines, designed largely – excuse the pun – with commercialism in mind. If you're throwing a decent sized party, wedding, fundraiser etc, then this is probably the machine for you. Our Titan hog roast model has a massive size to output ratio, being only 160cm long and 70cm in width, while having the capacity to feed upwards of three hundred people in a single serving! Both are beautiful specimens and versatile at that. There's a grill within both machines for cooking typical BBQ food, or even boiling and frying food in a pan if you want to spice things up some. A great benefit of having an interior cooking system is that when you hire you can cook your hog on the top, while at the same time having beef burgers, hotdogs and rice – as an example – on the go simultaneously. This is a superb feature if you want to serve up several course meals at more luxurious parties and functions. All of our hire machines have bespoke attachments for event versatility.
You might be looking to cater for guests at a Jewish wedding; naturally hogs aren't going to go down too well! No need to look elsewhere, our custom machine add-ons put you in a position to cook other meats. How does a whole lamb sound? Maybe chickens – Of which our machines can cook 40 at once – sound more your thing? So long as the animal or joint of meat is small enough to be skewered, we have an attachment to cook it. A real positive with our hog roast hire service, aside from the low cost, is just how easy our machines are to work. If you served up the finished product to strangers they couldn't be blamed for mistaking the meat as coming from a 5-star, world renowned eatery. Unfortunately your friends will know it hasn't been cooked by the world's best hog roast chef – But only because our machines are so client friendly that you'll barely have to attend to it! While the hog slowly roasts, you'll be as much a part of the big day as everyone else. There's no reason to slave in the kitchen, missing out on your own event, with any of our machines.
[+ show][- hide]