Spitting Pig Buckinghamshire has been successfully catering for weddings throughout Buckinghamshire and Central England for a number of years. Take a minute to have a look at our testimonials and satisfy yourself that we offer an excellent reliable service.
We have experience in planning weddings for any number of people, whether your reception is for an intimate 40 or 50 or a larger affair with 250 or more guests. From your initial enquiry we are here to make your day perfect. Hog roast wedding catering is a wonderful way to celebrate a marriage, it lends a relaxed feel to your event which is often what today's bride and groom want. Choose between a super rotating hog with crinkly crackling, apple sauce and stuffing, or a lamb rotated with herbs from our garden, or spitted chicken, sirloin of beef or even turkey, or as many different variations as you would like. Our most popular wedding choice is always a hog roast and a spit roast lamb which appeals to most people. We do not forget your vegetarian friends either!
To accompany the chosen meat we will serve your choice of potato and a selection of seasonal vegetables or salads. Our initial menus are standardised but we recognise that every wedding is unique and we tailor everything to your wishes and take into account any budgetary restraints. Before the main spit roast we can provide a selection of canapés. Try our delicious caramelized onion and halloumi mini kebab, or a mini yorkie with fillet of beef. We are happy to serve your reception drink, lay tables, place flower arrangements and your seating plan and keep the wine flowing. Our entire wedding package is bespoke so we can do as much or as little as you need.
Naturally we provide starters and puddings but we are equally happy to regard the canapés as a "walking starter" and serve your wedding cake as dessert. We can offer an evening buffet, for the same number of people or for an additional influx later in the proceedings. We can make this as simple as you wish from a bacon or sausage bap, to a full barbecue or pretty much anything in between. All our staff are fully trained and part of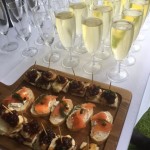 our specialised wedding team. All are smiley and happy to help! We recognise that you may not want a pig roast for your reception but fancy having one during the evening. If you have more guests arriving, this provides something special for the second wave of invitees. In this case choose our basic menu with a spit roasted hog encased in a floury bun with sauces and scratching. We can serve any number well into the tens and hundreds and this is a brilliant way of feeding everybody quickly and easily.
We always remember that this is your special day and we know that with our expertise you are able to rely on us for your catering arrangements. Just leave it in Spitting Pig Buckinghamshire's finest capable hands.
Back To Menus