We've all endured the last 2 years of Zoom meetings and work from home hours, so it has probably been nice to get back into the office and be able to more easily just conduct meetings again in proper office spaces and board rooms, rather than relying on poor internet connections and every kind of video conferencing app.
But even taking meetings in the office can get boring after a while. The new way to connect and hash through important business decisions is to take things outdoors with a fine meal from Hog Roast Berkhamsted instead! Yes, ditch the board rooms and the desks, Hog Roast Berkhamsted has an outdoor corporate catering service that can help you to level up your business meetings! While pouring over your latest fiscal reports, or meeting with clients, or rounding up the staff in all hands meetings why not switch things up by taking the meeting outside instead, and pairing it with the incredible catering of Hog Roast TOWN. Who ever said business can't be pleasure too!
Don't believe it can work? Well just try asking Tony and his accountancy firm as they took last Friday afternoon to do an end of month round up of everything the team is doing and what is to come from May and the coming summer months. But to make the afternoon that little more enticing they called up the Hog Roast Berkhamsted team to get some catering provided, and also took advantage of their back space at the office to enjoy the afternoon in the more relaxed sunny setting.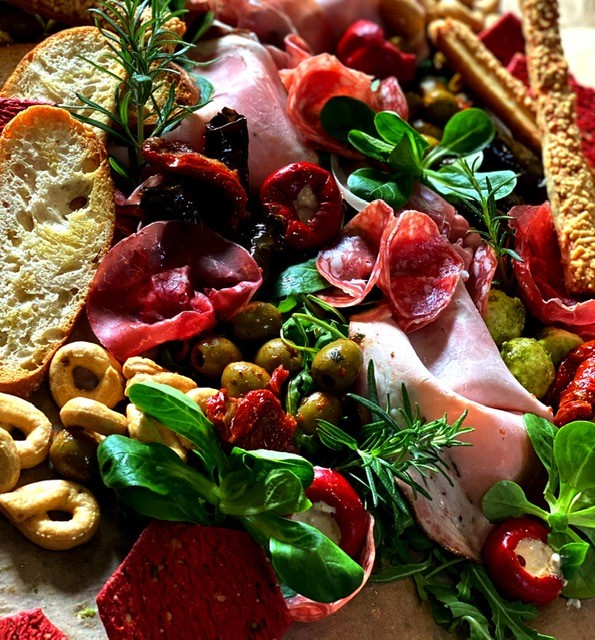 What better a way to enjoy an outdoor meeting than with an antipasti starter to kick things off from our Alfresco menu. Our fine selection of Italian meats and cheeses is the perfect choice for sunny weather. The team loved our Prosciutto Parma Ham and Salami Served with Buffalo Mozzarella, Parmagiano and Gorgonzola with Artisan Breads.
Of course it wouldn't be a Hog Roast Berkhamsted catered experience without our hog roast, which was served as our main alongside its usual accompaniment of sage and onion stuffing, glorious golden crackling, and apple sauce. Plates were piled high with the hog roast and its sides of buttered new potatoes, homemade coleslaw, and heritage tomato and mozzarella salad.
Those monthly reports went down that little easier with Hog Roast Berkhamsted's catering for Tony and his team, and it could help your team out today too with just a simple call!