Believe it or not, when the creative catering team here at Hog Roast Stewkley, are planning our menus and designing new dishes, it isn't all about the meat. Our hog roasts may be the star of the show and our menus may be packed with other delicious meat options too, but that doesn't mean that it is all that we offer.
We couldn't be the well-rounded event caterers that we are or be able to offer complete catering solutions for so many different events if we didn't also offer menus choices that are as varied the events we cater for and the diners that we feed.
The Hog Roast Stewkley team always keep up to date with changing food trends and the increasingly diverse dietary choices of modern diners.  We are also very sensitive to strict dietary requirements and food allergies, and we perform our catering services within stringent food safety guidelines. We want our food to be accessible for everyone, without any guests having to miss out or spend the meal worrying about what is on their plate.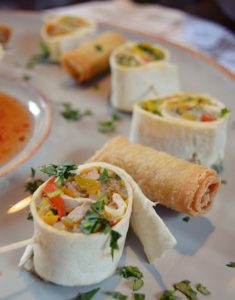 We will adapt any of our dishes to meet the individual requirements of our diners, and we offer a whole host of vegetarian, vegan and gluten-free products in conjunction with our signature dish. This includes tasty main courses such as veggie and halloumi skewers, and vegan BBQ pulled jackfruit, accompanied by lots of lovely side salads, seasonal vegetables and vegan friendly coleslaw. We can also provide delicious vegetarian canapés such as halloumi and tomato crostini, mini pizzas and Indian-inspired nibbles, as well as flavoursome starters including homemade soup, and heritage tomatoes and beetroot carpaccio. We are able to provide vegan friendly versions of lots of our dishes upon request, as well as gluten-free bread rolls and wraps.
As we're sure you will agree from these examples, our alternative meat-free options are far from generic or run of the mill. We put a lot of thought and creativity into all aspect of our menus, as for us, every dish is as important in the overall success of our catering services and the enjoyment of our diners.
If you have guests who don't eat meat or have certain dietary requirements, they will still be treated to a fantastic meal courtesy of Hog Roast Stewkley's inventive and versatile catering team!