For an amazing wedding day menu that ticks all the boxes, both in terms of mouth watering, fresh, homemade food served and in ensuring that everyone on the guest lists gets to enjoy what we make, you can't go wrong with Hog Roast Princes Risborough. Our catering professionals always go the extra mile in order to satisfy the happy couple and everyone they're inviting too, so whatever your dream menu may involve and whether you need options for special diets, alternatives for guests who prefer different food, or a menu of multiple courses providing, we're there for you every step of the way.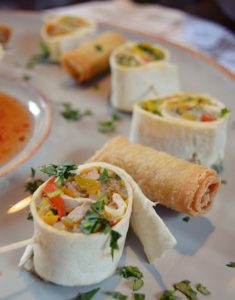 We have a variety of our own wedding menus available for you to choose from here at Hog Roast Princes Risborough but you can always design your very own if you prefer, with or without our help. You may have already decided on the perfect spread for your special day, whether that's a theatrical traditional hog roast centrepiece all by itself, a banquet of handmade canapés, starters, mains with sides and desserts, or something in-between instead, as it's all up to you. You can either mix and match items between our menus so as to devise your unique feast or select one from our Entry-Level Menu, Alfresco Wedding Menu, Wedding Catering Menu With Canapés and Drinks Service (or a similar menu with the added bonus of desserts), our Formal Wedding Catering Menu, our Wedding Catering Menu With Evening Buffet or our Formal Wedding Catering Menu With Evening Buffet.
Even if you decide on one of our own menus, we allow the flexibility for you to be able to adapt it to your wants and needs. So, for instance, with the Wedding Catering Menu With Canapes, Drinks Service and Dessert, you get to choose the five canapés that we serve to welcome your guests, the main course from a hog roast or spit-roasted lamb, beef, chicken or turkey, your preferred potato option, whether to dine on seasonal vegetables or fresh salads, and you also get to choose your two favourite homemade desserts.
For your wedding day meal, call up Hog Roast Princes Risborough today and see how we can make it extra special.