Catering for corporate events is one of Hog Roast Watlington's many specialities. And to suit the unique needs of the businesses that entrust us with their functions, we are proud to have created a selection of fully customisable menu plans that target every possible theme and budget you can imagine.
Now that summer is in full swing, we've found that the demand for catering of this style is higher than ever, which has seen us handle many different events over the last few weeks – and we have plenty more to look forward to as the months go on!
Our latest corporate booking was hosted by a startup business that has witnessed exponential growth courtesy of the pandemic. This led them to recently expand their office and take on lots of new staff across all of their different departments. However, with lots of new faces in the office, the business quickly went from being a small and well-bonded community to a large group of strangers virtually overnight, which founders, Clara and Frankie, were keen to fix.
The pair quickly decided that the best way to get everyone properly acquainted would be to organise a teambuilding event. And after putting their heads together, they agreed on hosting a corporate summer picnic in the park across the street from their office. After sharing their plans with their employees, who were immediately excited at the thought of the event, Clara and Frankie reached out to Hog Roast Watlington to talk food, and they were delighted with the helpful attitude of our catering manager, Craig, who was able to help them source the ideal menu for the occasion.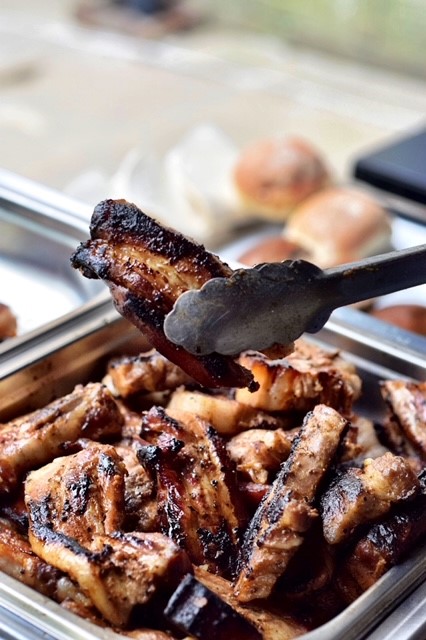 Their menu of choice was a bespoke version of our Gourmet BBQ Menu, which saw our team serve a buffet of handmade beef burgers, juicy sausages, chicken kebabs, spareribs and grilled vegetable skewers with additional salad options, coleslaw and sweet potato fries. In addition to these, Hog Roast Watlington had created platters of fresh-cut sandwiches for the guests to pick at, along with fruit salad and vacherins of strawberries with passion fruit cream for dessert.
Just as Clara and Frankie had hoped, Hog Roast Watlington's delicious food, combined with the great weather and buzzing atmosphere led the employees to become fast friends!