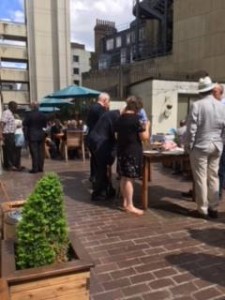 Hog Roast Winslow recently had the great honour of catering at the Sergeant's Mess at Wellington Barracks in London. In Westminster, near to Buckingham Palace, you'll find Wellington Barracks, which is home to The Foot Guards battalions who are on public duties in our capital city. The location is of high importance so that they can get to the palace quickly in an emergency, and just three hundred yards away is conveniently close. The barracks, which opened in 1833, is also home to all of the Foot Guards bands and the regimental headquarters, as well as currently housing Grenadier Guards, Coldstream Guards, and Scots Guards. The Guards Chapel at Wellington Barracks, also known as the Royal Military Chapel, is well-known for being the location of a memorial service in 2007, organised by Prince William and Prince Harry to mark the 10th anniversary of their mother's death.
The Sergeants' Mess at Wellington Barracks was the setting for the recent hog roast which Hog Roast Winslow cooked while there was a practice for the Queen's birthday. Trooping the Colour, the Queen's Birthday Parade, has taken place annually since 1748, where the Queen inspects members of the Household Division and Horse Guards, including soldiers, musicians, and horses, and is then followed by a regimental flag paraded in front of her, an artillery cannonade and a flypast over Buckingham Palace by the Royal Air Force. Trooping the Colour is a serious event which needs to be perfected in advance, which is why there's plenty of practice to be done, and on this day, that's exactly what was happening while we roasted the hog to perfection.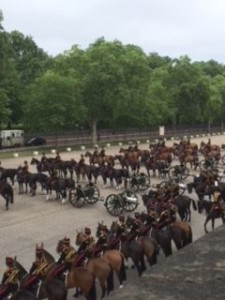 It takes a few hours, all in all, to first prepare the meat, by scoring it and adding water and salt, and then to roast it slowly at a low temperature until it has a crispy, golden outside, full of crunchy crackling, and tender and juicy insides, with melt-in-the-mouth pieces of meat. After resting, we carve away to the delight of our customers and on this day, once the practice was over, Hog Roast Winslow served plenty of well-deserved, tasty hog roast rolls in the sunshine at the Sergeants' Mess.