Hog Roast Wolsingham is proud to have accumulated quite the portfolio over the years, and it's all thanks to the fact we are regularly invited to cater for an all manner of different events by our creative customers. From action-filled mud runs and LARPing events to chilled out hen night celebrations and high-energy challenges in aid of charity, we've seen and done it all. So, in case you were ever wondering, the answer is no. There's nothing too big, too small or too out of the ordinary for our team to handle!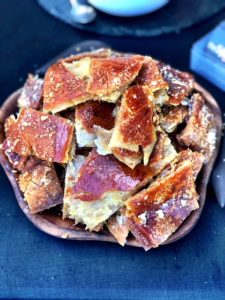 Speaking of challenges, the age of social media has brought with it a new wave of popularity for coming together in honour of breaking records while doing some weird (and wonderful?) things. One of the most popular challenge styles is, of course, eating challenges – which is something the Hog Roast Wolsingham team found themselves involved in quite recently.
When the client, Craig first called us, he expressed how keen he was to host a traditional hog roast eating contest, and who better to cook the pig than yours truly? As you can imagine, Hog Roast Wolsingham was delighted to receive this booking, and our team couldn't wait for the day to arrive! But knowing that not everyone would want to take part in the contest itself, Craig had also asked us to ensure that there would be plenty of food for everyone else to munch away on throughout the competition.
When the day of the event finally rolled around, the Hog Roast Wolsingham catering crew made their way to the client's chosen venue where they promptly began preparing the challenging feast. For the occasion, the team cooked a glorious golden hog encased in perfectly crispy crackling from our classic hog roast menu; in addition to which they served gluten-free rolls and wraps, grilled veggie skewers with optional haloumi, homemade savoury stuffing and sweet applesauce.
Before long, the guests had begun to arrive, and as the competitors took their seat rearing to go, everyone else filled their plates with food from the buffet table and settled down to watch the challenge. With everyone happily chomping away on the delicious grub, the catering crew allowed themselves a break to witness the impressive battle of the appetites!