Hog Roast Consett's latest event was none other than an outdoor cinema. The event really made the most of the gloriously sunny weather we've been experiencing lately. Open air cinemas are becoming ever more popular summer events to go to, and after the events of Covid-19 they're even more popular now than they were before.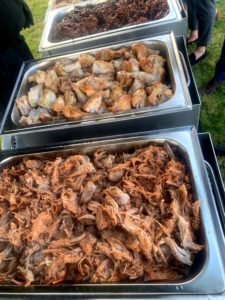 This event was planned very precisely and had to follow all the safety precautions about social distancing and sanitising hands prior to picking food at the buffet. But there was plenty of space for these distancing measures to be observed as the whole event took place in a large field.
A team of two from Hog Roast Consett arrived at the venue at 3pm in order to set up their catering gazebo and equipment. The entire buffet was then created from scratch fresh on site, so that at 8pm on the dot the 50 guests could tuck into a delicious, hot spread.
The clients wanted a Classic but tasty and inclusive menu for the attendees at their movie night. And that is exactly what the Hog Roast Consett team delivered.
The main attraction at the buffet table was a Classic Hog Roast, this was a succulent slow roasted pig with crispy crackling, homemade stuffing and apple sauce. That wasn't all! There was also grilled vegetable skewers, vegan kebabs and couscous, sweet potato fries, normal fries and of course, a small mountain of gluten free soft rolls. The whole spread was a magnificent sight.
After each guest had sanitised their hands they could make their way along the serving table, using the high quality disposable crockery and cutlery supplied by the Hog Roast team. The buffet was swiftly demolished and enjoyed by the guests. Once all the food was eaten the team of two from Hog Roast Consett discreetly tidied away, they took all the rubbish the catering had generated away from site with them to dispose of it responsibly.
The whole event was a massive success. It proved so popular that the organisers are considering another event in the not too distant future and are keen to work with Hog Roast Consett again.