Thankfully the days are beginning to brighten again which can only mean one thing – Easter and spring are on their way! Hog Roast Wendover are here for every one of your event needs this Easter time. We know that many of our customers might practice giving something they enjoy up at Lent (hopefully not hog roasts though!), so what better way to reward yourself at the end of it all than a grand old hog roast on us! A taste of the traditional is the perfect way to enjoy springtime and Easter celebrations, so come on over to Hog Roast Wendover now.
Before then maybe you're looking first to Pancake Tuesday, in which case Hog Roast Wendover can help their too. We are of course known for our roasts, but Hog Roast Wendover certainly loves all things sweet too with our range of brilliant homemade desserts. With our cooking capabilities we could help you get a whole bunch of pancakes frying up all at once so that you can really enjoy your Pancake Tuesday with as many as you can stack on top of one another! We'll have all the perfect toppings for your pancakes so that you can "pig" out to your hearts desire before giving up that vital something to your life until Easter. It's the best way to go out before Lenten promises!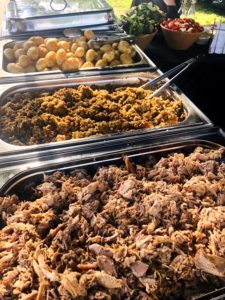 When it comes to Easter itself Hog Roast Wendover has an excellent feast for your events amongst friends and family. Get your eggs painted and rolling down a hill while the Hog Roast Wendover team tends to your meal on our exceptional hog roasting machines, turning out a perfect golden feast that everyone can enjoy. As much as it might look and taste like one, there's no miracles here – just great food made in style! We can cover a range of event styles, whether it is to be dining outdoors in the spring sun, or indoors in a formal hall, or with a buffet style for all to pig out on, or set dining served to you in a range of brilliant courses, Hog Roast Wendover has it all for your events this Easter!