Well it's not far to Brackley and this booking had come in rather at the last minute. You know there is going to be a bit of a story when you know it's a wedding and booked less than two weeks before the big day.
Hog Roast Brackley allowed plenty of time as always which was a good call. Some of the details had been a little vague but a I got there in the end. I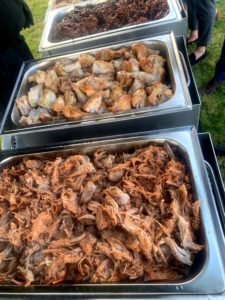 fortunately used my common sense in accessing via the staff gate. This took me the area where the marquee was set up. The only problem was the weather, just non-stop rain. Fortunately there was already a gazebo set up and the site Gardener, Tom was on hand. The chosen menu was the Southern Slow Roast menu, this had pulled pork or Boston butt as it is called. There was also shredded brisket with smokey sauce + chickens roasted whole with Cajun spices with lemon thyme and garlic, all with sweet potato wedges and various salads and corn on the cob. All nicely different and certainly testing with the wind and rain. Hog Roast Brackley loves a challenge. Guests arrived early for the ceremony in the woods (and rain!!). This was all short and sweet with guests soon looking for food. Fortunately there was afternoon tea first and music. This was great since it gave me time to do final preparations. Fortunately there were about 65 guests who came table by table to make sure that they kept dry. Hog Roast Brackley didn't however stop them from coming up again and again. There was plenty to go round.
The story of why I was there was sad. A competitive caterer had taken full payment and sadly gone bust. The mother of the bride was so relieved that I had turned up and couldn't thank me enough. I just did what I always do – turned up and smiled sweetly serving excellent food !!
I was glad to get home and get back in the dry.