The Hog Roast Bellingham team can confirm that love really does conquer all following the lovely wedding reception we catered for recently! Emily and Jack had been planning their wedding for over a year and after getting all of the arrangements sorted they thought they could sit back, relax and look forward to their special day, but unfortunately this didn't turn out to be the case. The introduction of the lockdown meant they had to postpone their wedding, which was originally booked for April this year, which was disappointing enough for the couple, but then bad luck struck twice when they then received the news that their wedding couldn't go ahead as planned a second time, after the new restrictions came in that meant wedding parties had to be reduced from 30 guests to 15!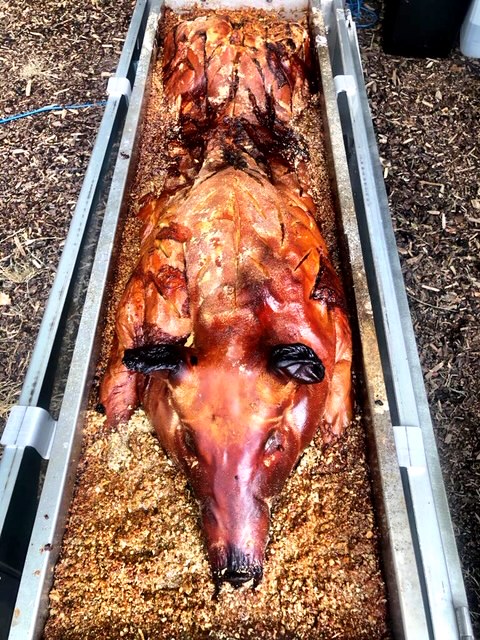 All of these setbacks, however, made Emily and Jack even more determined that they would get married this year, and luckily for them, they had the Hog Roast Bellingham team there to support them every step of the way! They were both very grateful that we offered them the understanding and flexibility they needed when they had to change their plans not once, but twice, and for our assurance that we could still provide them with a stylish, freshly made wedding meal that adhered to all of the required social distancing and safety measures!
When their long-awaited day finally did arrive, the fact that the couple had to overcome so many hurdles to get down the aisle made it even more special. As promised, the Hog Roast Bellingham team delivered on our side of the bargain by presenting the happy couple and their small wedding party with a delicious hog roast served with apple stuffing and crunchy crackling, accompanied by locally sourced seasonal vegetables and buttery new potatoes, along with tangy feta and veggie skewers for the meat-free option.
The journey to the altar may have been a bit of a bumpy ride for Emily and Jack, but they both agreed that it was definitely worth the wait, and they told us that they couldn't have asked for a better wedding meal or found a more attentive and supportive catering company than the Hog Roast Bellingham team!