The world is slowly returning to its pre-Covid existence and schools re-opening to students is part of that journey, but for many students going back to the classroom is scary, Hog Roast Allendale's latest event was about a school trying to help put their students at ease. The client (in this case, the school) put on a re-opening festival for staff and students, in an attempt to reassure potentially nervous and anxious students and create a friendly atmosphere and school community.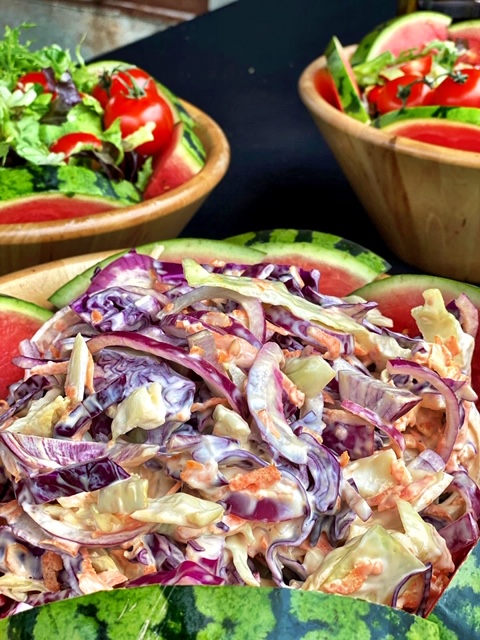 The Hog Roast Allendale team were hired to make and serve a delicious buffet for everyone at the school to enjoy for free, as it had been paid for by the school board. The 325 very lucky students and staff were treated to one of Hog Roast Allendale's most loved menus, it had something for everyone to enjoy.
The Catering Manager and a few assistants from the Hog Roast Allendale team arrived at the school several hours before the staggered 12-1:45pm lunchtime service. They had plenty of space to set up their cooking equipment and serving table in the courtyard by the hall, where the staff and students would take their food once they had piled their plates high with tasty delights.
The buffet was a magnificent spread, complete with slow spit roasted Local Free Range Slow Roasted Chicken served with chipolata sausage, stuffing and homemade onion gravy. There was also three types of salad: Greek, Classic Caesar and the very popular Avocado and Cherry Tomato. Finishing off the excellent buffet was lots of skin-on potato wedges and a basket of soft gluten free rolls.
As the staggered serving times crept upon the team they were ready. The students and staff all helped themselves and piled the china crockery and cutlery the team had provided them with high with tasty treats. It was a long and somewhat tiring service, but the team worked hard and pulled it off without a hitch.
The overwhelming response from students was that they loved the buffet! Many thought it was an incredible way to start to year, it was smiles all round.