Time flies by here at Hog Roast Kettering, once again we are back at the Prep School Cranleigh in Surrey. I probably shouldn't say that this is one of my favourites, but it is. This year was no different, the location was the same, next to the hut housing pit. It is all very 'scout-like', marshmallows toasting on sticks around the camp fire. We do a couple events a year here, both in the main school and also at the Prep. In the lead up to the event I always mention that I am looking forward to tea and cakes, as in the previous years the catering staff have walked around the fields carrying tea and various cakes. They are so kind, but I hardly need the extra calories! This year was no exception, the catering manageress appeared with a tray of date sponge pudding, caramel custard and a mug of tea, and on top of that a rock cake! We nattered for ages catching up on all the Cranleigh gossip. There was a new headmaster, house masters etc. Cranleigh is an independent English boarding school with fees of up to £35,000 a year, no wonder Richard Branson sent his children here!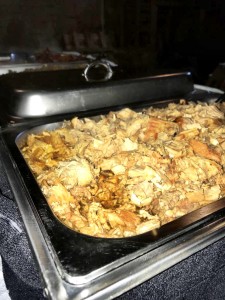 In order to make the other Hog Roast Kettering staff jealous I couldn't help sending a picture of the afternoon tea tray, they were not slow in telling me how they had been offered lunch and of course with many pictures. The housemaster and also client is a great guy called Dudley from South Africa. I guess we have become good friends over the years. We talk about his former country and his children. I also marvel at his triathlon news as well as him contemplating back to back marathons – 10 in a row. I break out in sweat just thinking about it! He thinks nothing of doing the Great North Run and would love to do the Marathon des Sables, he's just worried about the 3,200 euro cost!
It's soon time to raise the pig along with the jacket potatoes and coleslaw, soon the children arrive as well as my Hog Roast Kettering helpers. Every year the matron and headmaster's wife insist on helping service but every year I refuse. The fireworks are provided by a former teacher who was also a pyrotechnic, the whole show is very professional and usually put to some funky music. All goes well, although this year the fire brigade were unable to pop over for the usual Hog Roast roll, a truly wonderful event and Dudley was even talking about a Lamb Roast for next year!