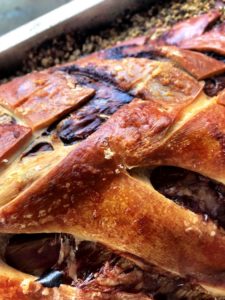 With the world-famous Silverstone Circuit just laying just outside of town, Towcester is certainly no stranger to high energy drive and great spectacle. Event dining is going to have a lot to live up to then in Towcester, but thankfully we here at Hog Roast Towcester can keep up with the best of them! Steering our way into first place for event catering in the UK, Hog Roast Towcester have provided exciting and unique dining experience to customers all across the UK via our hog roast and our speciality roasting services. We've taken the traditional hog roast and made it an event speciality as its slow roasting spectacle adds touch of style and flair to the occasion while its great tastes add unforgettable dining to top a fine day off.
Early on in our more than 20 years of event catering we decided to strive for something more than was on offer in the market by building out our own range of hog roast machines to allow for a better level of quality than we were seeing elsewhere. These machines might not quite be at the engineering prowess of the F1 vehicles jetting around Silverstone, but they're near enough an equivalent for hog roast cooking! They turn every roast dish into a perfect product, ensuring tender juiciness throughout the meat while turning the skin deliciously crisp and full of texture and flavour. This is the perfect dish for any event: weddings, anniversary dinners, festivals, social club evenings, private parties, corporate hospitality and more – it's all a better occasion with the fine foods and excellent service of Hog Roast Towcester.
Glorious Feasts In Towcester
This is premium dining without the premium cost. Hog Roast Towcester has gone to lengths to getting in the best pigs and ingredients around the area and bringing costs down to ensure that everyone can enjoy the incredible tastes of our special dine in experience. Between our centre piece hog roast, our many other meat options, vegan foods, veggie variants, gluten free picks there is something for everyone to savour. Our dining packages are refined for every occasion, so pick yours today with Hog Roast Towcester!
Call Hog Roast Towcester now for a better way to dine at your next event.