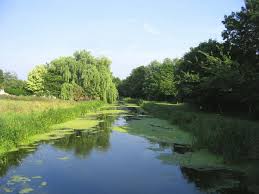 Olney is quite a popular destination for tourists, people visit us for a lot of things, one of the more recognised attractions is the Olney Pancake Race, another attraction which brings tourists through the gates as it were is the Olney Hymns by W. Cowper and J. Newton, when the hymns were written in 1779 there were 2,000 people who lived here, less than a third of the number residing here today.
Lace making was what the town was known for in its infancy, in the civil war it's well known by history enthusiasts for the Battle of Olney Bridge.
Thankfully there's no ongoing civil war at present and we can enjoy more relaxing, modern day aspects of Olney, like the farmer's market which takes place every first Sunday of the month, or the general market which is held weekly on a Thursday. Shops are plentiful and we've even managed to avoid the popularity of large chain stores for the most part, the shops here are mainly owned independently and there's a real mix of what's on offer if you happen to be visiting the area for an event. Cafes and restaurants are high in number so if you're ever hungry food isn't far away, and there are enough pubs to choos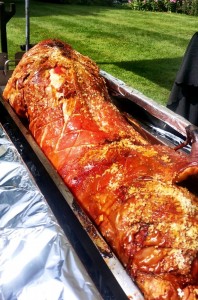 e from for a quiet night out.
Whether you're visiting or you're a local, if event catering is what's required then hog roasting is the wisest of choices. Hog roasting is scrumptious to start with, but when you throw our illustrious catering skills into the mix you're really talking. The clue's in the name and there's clients from all over Olney and further afield who've had our local hog roast catering and will attest to just how appetite whetting the food. We make real food for real people; the crux of our established popularity is seeing each client as unique and catering in different fashions for different events.
We at hog roast Olney cater for both the market town and the civil parish of Olney, so regardless of whether you're in the centre of town or on the outskirts we'd be more than happy to make an appearance at your event with a hog roast in tow.
When we have a hog roast Olney job the chefs could be cooking lamb or pig, it doesn't make a blind bit of difference to the positive feedback. Every link in our chain is strong; right down to finger food canapés to kick-start your event. We always finish strongly too, the desserts made for guests are dangerously tasty. Whenever we've asked for feedback from clients they've never been able to split the foods we make so far as quality is concerned, they like starters and salads every bit as much as the roasted pigs or whatever the meat of their choice may be.
A recent event saw us catering at a magnificent house with lovely, spacious gardens which were more than big enough to fit in the 40 guests invited by the customer. The event was for a group of football teams aging from Under 16s to the adult side who were celebrating an extremely successful season. We arrived at the house early to set up and get the hog on the machine and set it away roasting as we do at all the events we cater at. Pig in a bun was the desired menu of the guests with many appearing two or three times before the hog had finished roasting with the same question "Is it ready yet?" When the time came to carve the hog, many eager and hungry footballers flocked to the serving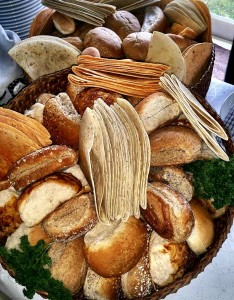 table anticipating some succulent pig with crispy crackling, stuffing or homemade apple sauce and who were we to disappoint! When everybody had been fed, we simply carved the remaining meat onto the tray and packed up before clearing and taking any rubbish with us. Result!
A fact that allures clients to Spitting Pig isn't the depth of the items on our menus, or even the depth of the menus themselves, but it's also the menu categories and the type of catering that we do. For events serious and non serious, formal or informal, you can find a menu which is just what you're looking for. With our menus we take into account these differences, as great as our basic roast pig roll menu is, we know that for a highly prestigious or important event it might not be the perfect match, but we bet our sit-down menu of several different courses would do the trick!
When you make a booking with us you'll have our full service, even if that means giving you a helping hand when it comes to aspects of your event that aren't catering related, but are event related.
One such way of helping clients is by having an even more accessible and economic way of hog roasting, which is hog roast hire Olney. Clients know what they're getting with hog roast hire Olney, a market leading machine which can spit roast, tray roast, and even has a griddle. Hog roasting has never been easier or cheaper; you'll literally be cooking up a storm with a Spitting Pig machine, especially as you get to decide what, when and how you're roasting your selected meats, from turkey to pig.
The machines we deliver are flawless, always in peak condition. So much of hog roasting comes down to what the hog roast looks like as well as how it tastes, because it takes hours to cook after all so the more impressive it looks the better, and impressive is the perfect word for our hog roast machines.