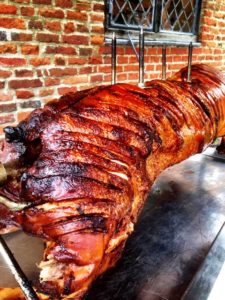 If you want the best hog roasts in the Newport Pagnell area, the freedom to host your event in any type of setting and a wide range of varied menus that are suitable for all diets, tastes and occasions, then you have come to the right place. It might sound too good to be true that one catering company really can give you everything you need when it comes to the food, service and your choice of venue, but in Hog Roast Newport Pagnell's case, this is definitely the case.
We have spent years travelling all over the Newport Pagnell area to provide our unbeatable hog roast sandwiches, tempting buffets and polished 3 course meals for all manner of events, both indoors and outdoors. We are able to do this thanks to our highly versatile catering team and state of the art cooking equipment. We are able to prepare every aspect of our menus from scratch on-site, whether we are cooking for 30 people in an intimate indoor venue or for 300 people at a large outdoor event, and we only ever use the best locally sourced ingredients.
Slow Roasting Experts Ready To Cook Up A Storm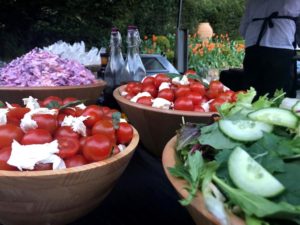 The Hog Roast Newport Pagnell team don't just offer the best slow roasted pork in the area. We can also treat you to a wide selection of different meats, including sirloin of beef, whole roasted chicken and tender spring lamb, as well as tasty vegetarian and vegan alternatives for all of our buffet and 3 course meal options. For more formal occasions, we can also provide a stylish canape welcome reception presented to you by our own front of house team, as well as professional waiting staff to provide full table service for the rest of your meal.
When it comes to event catering, no detail is too small for us and we will always go the extra mile to make sure everyone has a great time and can tuck into food that they love regardless of their dietary needs or personal tastes. The Hog Roast Newport Pagnell team really can give you everything you want and more in both the food and service we provide for any type of event or special occasion in any location in the local area.