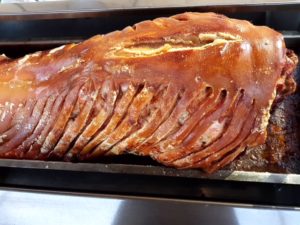 Just like the stallholders at Chesham's regular local produce market, the Hog Roast Chesham team are also strong advocates of making the most of the great homegrown fare that Chesham and its surrounding countryside has to offer. We believe that it is impossible to provide a great finished product if we don't use superior ingredients as a starting point. This is why we only ever use the freshest locally-sourced produce available in all of our menus, including our ethically-reared meat, organic fruit and veg and free range dairy products.
To ensure we do our ingredients justice, we are committed to making every part of our menus from scratch on-site, whether we are cooking for a large crowd at an outdoor event or for a smaller group in an indoor venue.
The Unbeatable Catering Choice!
Hog Roast Chesham's unbeatable ingredients form the basis of our diverse selection of menus, which range from our signature hog roast sandwiches to extensive buffets and refined 3 course meals. We offer a wide choice of different meats, if you would prefer a second meat option or an alternative to pork, as well as a wide range of seasonal side dishes, tempting starters and desserts, and an exciting array of handmade canapes for extra special occasions.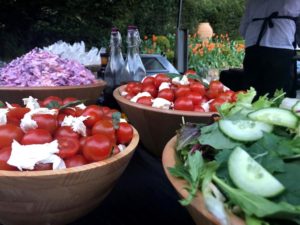 We are also very attentive towards our diners who have different dietary needs. Even though we are hog roast specialists, it is important to us that our food can be enjoyed by everyone and we put a lot of effort into devising delicious meat and dairy-free dishes for all of our menu options. We are also able to alter any part of your menu accordingly in order to cater for guests who have specific dietary needs.
The quality of our ingredients and versatility of our menus makes our food ideal for any type of occasion, including wedding receptions, birthday bashes, office parties, local markets and everything in between.
If you want a catering company who offers high quality in everything we do, as well as varied menus that accommodate all tastes and dietary needs, not to mention the best hog roasts in the area, the Hog Roast Chesham team are the perfect catering choice for your event.