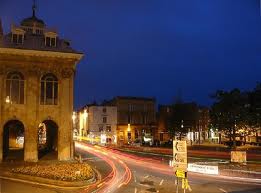 The market town of Abingdon lays claim to the title of supposedly being the country's oldest occupied town, with historians suggesting it may have been constantly occupied since as long as six thousand years ago. With such a lengthy history, you can be assured that the practice of hog roasting was popular a good few times in the past and we believe the practice of perfectly cooking meat like this is becoming even more popular than ever; and with our hog roast Abingdon client list growing all the time, we are proud to be perpetrating the comeback!
The town is a vibrant and cheerful place full of legends and history, with some beautiful buildings and fantastic views of the river. This was the scene for a recent hog roasting event which we catered for, in a building nearby the river for a corporate event. The sight of the old bridge over the sparkling river was great from my vantage point, but as a hog roast chef hired along with a Titan hog roasting machine, I had lots of work to do.
The company had chosen us thanks to a recommendation from another company we had catered for the previous month; as part of a team building day between employees, we were tasked with providing employees of around fifty in number with lunch. After arriving at the venue in good time, I set up the machine and the previously cooked whole pig before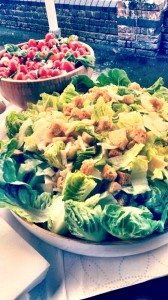 beginning to warm it through perfectly. Because of the busy nature of the venue, it had already been discussed that I should cook the pig immediately before bringing it, and it wasn't long before the room was filled with the delicious scent of cooking pork while I prepared some salads, potatoes and soft bread rolls. Then it was a choice of apple sauce or redcurrant jelly, presented beside the pork with the rolls and salads. We had been notified of a few vegetarians in the group, so I prepared some vegetarian lasagne and vegetarian burgers too.
At this hog roast Abingdon corporate training event, it really was a delight to see employees light up on entering the room and seeing exactly where that delicious smell was coming from. I had set up a few tables and chairs for anybody wishing to sit down, but after I had carved the pork and crackling from the pig and served it to everybody in the soft rolls, most preferred to stand chatting to each other with their food on paper plates. That's one of the best things about our 'pork in a roll' catering option; it seems to really break the ice at social gatherings. I knew the food would set them all up for an afternoon of brainstorming!
Packing away was not difficult, even by myself. Just a few trips out to the van was all it took; the hog roasting machines you can hire or even buy on this website are perfect for cooking indoors and out. The wheels under the sturdy undercarriage and large handles on either side ensure ease of movement providing you have a little elbow grease to spare. And cleaning of the machine is a great deal simpler than it looks, with the stainless steel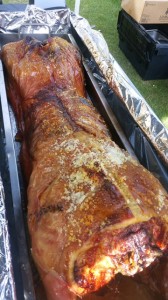 easy to clean and the attachments easily removed for soaking.
If you came here to find out about hog roast hire Abingdon, you have come to the right place. If you don't feel like you need to hire waiting staff, or even a hog roaster, you can just hire the machine itself. We will deliver it to you on the requested date at the requested time, with a full bottle of gas. We can even help you source a hog if you can't get one yourself, or simply deliver it with the machine. You'd be surprised how easy it is to cook the perfect hog with our machines; simple, easy, clean and perfectly built, whether you chose a spit roast or pan roasting machine you can get the perfect hog regardless of your experience. Imagine the pride of seeing your friends and guests tucking into your delicious carved pork, with plenty of delicious crackling. It certainly beats leaning over a barbeque prodding at embers; and with the thorough method of cooking, you don't need to worry about making anybody ill. Plus you get the added theatrical look of a whole pig turning slowly on a spit, and the delicious scent. A hog
roast really is perfect for you event!
Contact us now for hog roast hire Abingdon perfection!